Meet Linda Prescott.
Linda Prescott is the real 'Love Guru'.
With 26 years of professional matchmaking experience, it's no wonder Linda is the go-to expert when it comes to finding love.
What started as creating love matches for her classmates in high school, lead her to take a job at Ideal Introductions when she was just 23. Three years after joining Ideal Introductions, Linda bought the business and it remains Brisbane's only matchmaking service, from an original seven competitors. But Linda's journey in Love, only gets better.
An expert with track record.
People want to believe that marrying a perfect stranger can work. Linda has shown that it is possible.
Today, Linda has more than 1,119 marriages to her credit. Linda is very passionate about helping people find their ideal partner so much so that she has personally worked with more than 10,000 singles. Over 26 years, Linda has perfected her unique compatibility method and this can be seen from the results –70% of members matched by Linda and her team form Lasting Relationships within 12 months. Now that is a success rate to be proud of.
Linda has worked with clients from different life stages, helping those looking for love for the first time and those discovering love again.
Deborah Cox, 51
Before being matched in 2011, Deborah was a single mother with two children.
"Brian wasn't my usual 'type'," reveals Deborah when she explains why she'd recommend that everyone give matchmaking a try.
"Ideal seem to know more about you need rather than what you think you want," she says, adding, "The rest is history. We have six kids between us so we now have a huge family with two grandkids as well."
Rob G.
Before being matched in 2017, Rob spent ten years looking for the love of his life.
On 5 August 2017, Rob and Caty had their very first date and the rest as they say, is history. "Our love and care for each other is very deep. We have a very open and honest relationship. Caty is a beautiful lady whom I love dearly. "It took me 10 years to find Caty and I am not going to let her go. Linda thanks for all your assistance and help," said Rob.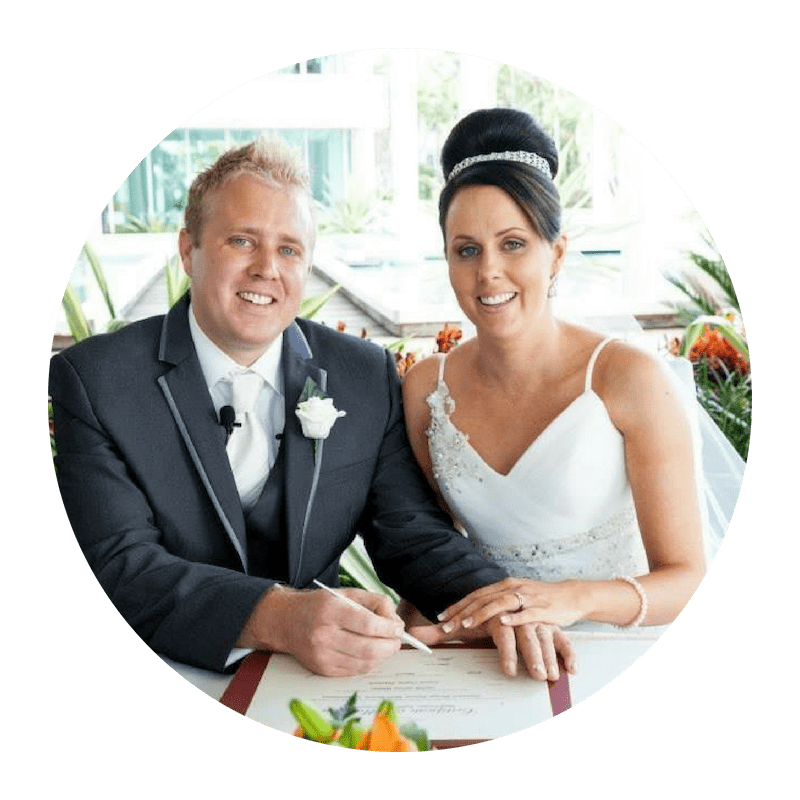 Carrie Wilson, 32
Before being matched in 2011, Carrie was single after coming out of  a long term relationship.
"It was strange not being able to see what they looked like," she recalls of when she first started with matchmaking, "but it was part of the process and to think outside the square. A connection doesn't always just build on physical appearance but that of personality and similar goals in life."
While Carrie had some doubts about matchmaking initially, it was her bond with her matchmaker that helped her through the process. "I had some doubt with whom I was being matched with," Carrie reveals, adding, "I never gave up, though." Carrie and Gerritt tied the knot in 2015. "He's now my best friend and my husband."
A dynamic personality on TV.
Linda is a true professional and promises to bring a fresh energy.
Linda is no stranger to television. Having been featured in numerous programs, Linda has always projected a confident and dynamic vibe. Linda is not only charismatic and respected in the industry, she is also a presentable talent with a great sense of style.
A trusted expert.
Linda knows the business of Love.
She has been invited to share her expert opinion on dating, matchmaking and relationships on radio, TV, digital and print.
Radio
Linda has worked with radio personalities on fun and engaging programs and campaigns.
Listen to this fun segment with expert matchmaker Linda Prescott and Robin, Terry & Bob from the 97.3FM breakfast show. Linda helps a married couple delve a little deeper into how they communicate and what they need from their relationship. She also gives them homework to help strengthen their bond. This is what the love doctor had to say…
Linda on Nova matching singles for the Nova Singles Party. The announcers were also given their ideal match and, boy, were they surprised!
Robin, Terry and Bob from 97.3FM helps find Christie her Mr Right with the help of Love Guru, Linda. Listen as Linda begins profiling Christie and asks about her past relationships and experiences.
Linda chats about people's wishlist and determines the difference between wanting to find a boyfriend and wanting to find a husband. Linda has now completed her profiling of Christie and is on the hunt to introduce Christie to her Mr Right!
Linda shares her professional expertise on all things 'dating', including great first date questions, what-to-do's and the what-not-to-do's.
Listen as Linda gives her expert tips on ABC Melbourne Radio.
Linda as Nova's Resident Love Doctor
Linda is a trusted expert in her field. Listen as Linda answers questions asked by Nova listeners on air and provides them with actionable tips. "Linda Prescott from Ideal Introductions has over 25+ years' experience as a Professional Matchmaker … there is nothing Linda can't tell you!" – NOVA106.9.
A listener asks Linda if it is a big turn off being a single mother with children in her early thirties:
A listener wants to know how important is it for a partner to share similar personality traits. Linda provides her advice…
Linda answers a listener's question about a relationship missing a spark and signs to look out for.
Linda shares tips on how to overcome nervousness on a second date after sharing a passionate kiss on the first…
Print
Linda has been asked to use her expert matchmaking skills to help these individuals looking for Love.
ABC sends Stephen Stockwell to Linda Prescott to see if she could find him a partner.
The chat Linda and I had about a potential partner went for about half an hour, and that was just the first step to finding out if you're ready for this. She knows all her clients and interviews them to work out who they'd be a worthwhile match with.Linda throws a couple more follow-up questions my way, but it's clear she's figured me out. Read More.
Business Insider talks to Linda about finding love.
"Before you start dating again, make sure you are emotionally available," said Prescott. "Ask yourself these questions: Have you let go of the past and have you learnt from your mistakes? Remember what you want in a partner can be different to what you actually need. Do you know what you need?"
Who's your Ideal partner? Take our FREE Compatibility Test now!